PUBG can provide players with a headache or two at the best of times. Its most recent issue, that has also cropped up before, is the lost connection to host message that is plaguing users on PC and Xbox. But what's to be done about it? Unfortunately, you can't go all IT Crowd and try turning it on and off again. There are, however, ways to make your PUBG experience a little less stressful.
PUBG Lost Connection to Host: What's the Issue?
Those who have recently downloaded the PUBG Update 14 are finding that they're being booted mid-game (or even upon joining a game) back to the lobby and being met with a 'Lost connection to host 0.7.5 error' message. Some additional error codes include E34669 and 44A4BE, but there doesn't appear to be any difference between them in terms of causing the main issue i.e. not being able to join a game.
PUBG Lost Connection to Host: How to Fix 0.7.5 Error
Bad news: there's probably not going to be an outright fix for the lost connection to host error, at least not on your end. The best thing to do would be to keep checking the official PUBG Help Twitter account for updates, as well as raising a ticket with them to make them aware of the problem.
PUBG Community Manager Oreoree has addressed your concerns, stating on the PUBG forums that: "We are currently experiencing connection issues which are preventing players to join the game. We are currently working on this to have it fixed as soon as possible. We're very sorry for the inconvenience caused."
PUBG Lost Connection to Host: Other Workarounds
While the PUBG connection issues should be solved momentarily, the best thing to do would be to try out test servers on PC to see if you can enter any of those. Otherwise, waiting for the next (minor) patch to fix things on the weekend of June 2-June 3 is going to be your best bet.
June 10, 2018
Over the years, mobile devices have surely come a long way in the realm of premium quality, high-graphics gaming. The mobile gaming is industry is directly linked to the PC and consoles of our times, with some of the most popular titles in mobile gaming being direct adaptations of their big-screen counterparts. Playerunknown's Battleground or PUBG as it is commonly known as, has become an instant hit among gamers, so much so that they release a PUBG Mobile version for it as well.
Considering the premise of the game, you need a pretty decent Android device to run PUBG Mobile on medium to high graphics settings. For those of you who either don't have an Android device with the firepower to play this brilliant game or simply want an experience that is closer to PC gaming, you can play PUBG Mobile on Android emulator for PC and enjoy the mobile gaming experience on the big screen with more intuitive controls.
Does PUBG Mobile work with any Android Emulator?
Considering that most Android emulators are capable of downloading and playing games directly from the Google Play Store to some extent, we expected BlueStacks to do the same. However, the most popular emulator for Android did not work when we tried to even download the PUBG Mobile app.
So we moved on to the next best name in the business and downloaded the MEmu Play Android emulator which is specially configured to play PUBG Mobile on a PC. We were able to make the game download and install and even start playing it despite the wonky controls, but soon enough the game closed giving us an error notifying that we're using an emulator and hence being kicked out of a live game.
Finally, we came across Tencent Gaming Buddy, which is the official PUBG Emulator for PC, created by the developer itself. After testing out three different emulators, we can say with surety that the best way to enjoy a surreal experience when playing PUBG Mobile on your PC is with the Tencent Gaming Buddy emulator since it works seamlessly and you don't have to configure keys for in-game controls as they're already mapped out.
How to play PUBG Android game on PC
Once you have the Tencent Gaming Buddy emulator downloaded, you'll still need to download the PUBG Mobile game, which the emulator will do for you. Considering that the game is almost 1.4GB in size, the process could take some time, but you'll be notified once the download is complete and the game is installed.
Once the game launches, you'll be able to see the Default Controller tab on the right side of the screen, showing you the mapped out keys for the mouse and keyboard. Apart from the default controls, you even get the ability to Record your gameplay.
One disappointing element of the emulator, however, is that fact that you need to create a separate user ID or log in to Facebook or Twitter account. When trying to log in to Google Play Store account it gives an error message saying "Google Play Services version unusable". Considering that the Gaming Buddy emulator is still in beta, the feature could be added later on.
Additionally, the game will notify you that it detects that you are playing PUBG Mobile through an emulator. To keep the game fair and square, you will only be paired with players who are using an emulator as well, even if other folks on your team are playing PUBG Mobile on their smartphones.
Finally, you can fine-tune the graphics and visuals of PUBG Mobile using the Settings menu and heading over to the Game tab. Here you can not only change the Gaming Resolution to SD (720P), HD (1080P), or Ultra HD (2K) based on the graphical power of your computer, but also set the Display Quality.
June 10, 2018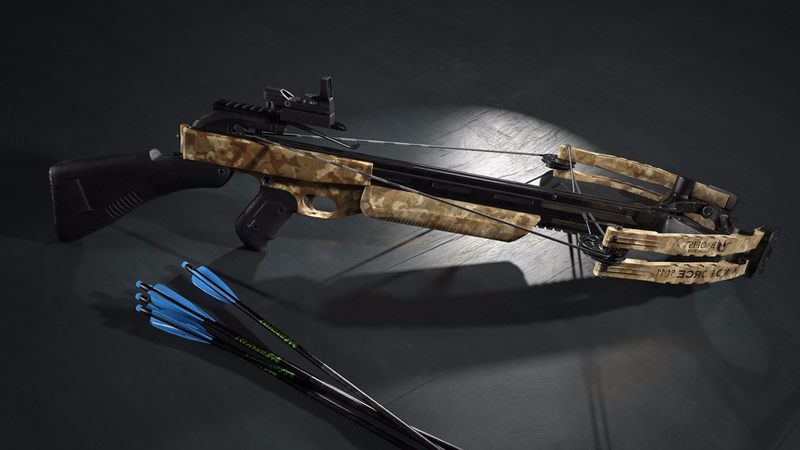 PUBG's alternate game modes are often explosion-filled, gunshot-popping, silly experiences. Ghillie Crossing, this week's game mode, is is all about crossbows, ghillie suits, and grenades. It's very good.
It is a stone cold fact that the crossbow is one of the worst weapons in PUBG. Its one benefit is that it is silent, but you have to trade in basically every other weapon quality to get that silence: It's hard to aim, you can rarely see if you've hit your target or not, and the travel time of the crossbow's bolt is so weird compared to all of the other weapons that you almost need to learn to play the game a completely different way.
Giving us a game mode where this awful weapon is our only option seems like a curse. It seems like it would be the opposite of fun. Against all of my expectations, though, I've found Ghillie Crossing to be some of the most pulse-pounding action that I've experienced in quite a long time in PUBG. I mean that literally, because when I finally won a game after dodging around another player for a solid 20 seconds and missing every shot I took, my heartbeat was the only thing I could hear. Max stress. Impossible controls. A bad weapon. A great experience.
And maybe I feel that way because I enjoy boiling a big, broad game like PUBG down to some simple elements. Ghillie Crossing cuts out the long-distance Kar98 headshots and entire squads of assault rifle surgeons who barrel down on you with ruthless efficiency.
By sticking us with the terrible weapon, Ghillie Crossing forces players to lean heavily into other skills. Movement and dodging become really important, and so does communication. In normal PUBG play, if you can see an enemy you should probably be engaging them. In this game mode, that's almost impossible; you can take some potshots at 300 meters, but making the shot is rare. So you end up in these scenarios where you're calling out all of these targets but you can't do anything about them other than dodge and wait until you get closer.
It's a quieter, grungier experience that asks you to rush your enemies as often as you take cover and fire, and that's a change to the PUBG experience that I can get behind for a limited game mode. Ultimately, this is the kind of thing I want to see in the game more often. I would love some kind of incentive to not go for the sniper rifles all the time, but that seems impossible for the main game, so I'll just be happy with what I get.
Ghillie Crossing is available for the PC version of PUBG until May 27th at 7pm PDT.
June 10, 2018
PlayersUnkown's Battleground or PUBG is one of the most popular games. By end of December 2017, it was reported that more than 30 million players, combining X-Box and desktop gamers were engaged in playing this online game.
To get ahead in competition many players even use player unknown battlegrounds hacks such as always win, bounding boxes, the vehicle hits, wall hacks, etc. These give players an extra nudge in the game for surviving till the end.
However, before using a pubg hack and becoming the champion, one would require knowledge about the game and how to play it properly. learn more about PUBG hacks.
PUBG Game
This game is an online multiplayer battle royale which PUBG Corporation developed and published. To make this game unique and interesting, its developers created certain specifications:
With time, the battle arena starts to become smaller
Random bombardments from planes flying by
Essential resources from planes above to have an edge over others
This game has two modes solo and duo/squad. Most gamers, however, prefer to opt for multiplayer version as that's where they can play alongside family members or friends. One can use player unknown battlegrounds hacks in both the versions.
So, let's check now how to play this game!
Playing PUGB with a Squad
Game-plan plays a crucial role when going up against other teams. Ensure the squad's player follow the strategy which was set before the match. When with a team, one can make sure that every angle is covered at all times. Using voice chat alerts all members when something vital takes place.
Also, one can use the compass in the game to inform the teammates about relevant details. In addition, pubg hack can let one know the location of others.
How to Kill Enemies?
It is hard to eliminate other players as this game is right in the epicentre. Depending on an individual's playing style, one can opt for three basic techniques which are close and loud, ranged fire and waiting for the correct time.
The engaging principle is where a person quickly eliminates an enemy with sudden bursts after making them disable. To disable an individual one can use flashbangs or gas grenades before laying down heavy fire. The primary goal of this technique is to disorient opponents by making them confuse. However, high capacity weapon is a must for this attack.
This is a technique where one can use guns with scope for shooting distant enemies. All one would require is to wait for having clean line of fire in an open space. In such an open spot they will not have any hiding spot and hence a person can make maximum damage. To see through scope, right click on mouse and hold the right click to zoom the view.
Waiting for the right time
This is an ideal battle strategy especially in this game. Since pools of players are there, waiting and letting others kill each other before swooping in and becoming the victor. It is a good technique; however, always remember that the battle ground shrinks providing fewer vantage points.
Following these techniques along with player unknown battlegrounds pubg hacks, any beginner will understand the game play as well as stay alive till the end and maybe even become the champion.
June 10, 2018